The marathon gets a lot of focus in running circles, and for good reason.  It's long enough that it requires a different approach than other common race distances.  Once you commit to "racing" for over 2 hours (or over 3, or 4), you need physiological endurance, pacing control, and mental toughness.  These workouts are intended to work on each of these three aspects, simulating marathon conditions.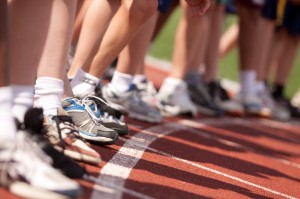 NOTE: These are much better workouts for experienced runners with a good base built up.  If you're training for your first marathon, these might be a little much for your body to adapt to.  But if you're comfortable with 20+ mile runs and looking to make a big improvement in your PR, these workouts are for you.
3 x 2-mile, Mile with Full Recovery: Warm up fully (2-3 miles easy running, lunges, skips, leg swings – see my previous post for info on each of these).  Change into flats.  Then run 3 x 2-mile intervals with a .5 mile recovery jog between intervals, followed by 1 mile.  Paces for the intervals should descend from marathon to half marathon pace for the 2-mile intervals, and 10k pace for the 1-mile interval.  The longer recovery is important as this workout should come at the beginning of race-specific interval training, about 2 months before race day, when you are just finishing up your aerobic base build and getting some speed back into your legs.  Full credit for this workout goes to Chris Stelzer.
Descending 4 x 3k with Short Recovery: Warm up fully.  Change into flats.  Then run 4 x 3000m with 3 minutes jogging recovery.  The short recovery is just enough to get your HR and brain back under control (based on Jack Daniels' formula of 1 min recovery jog for each 1 km of speed).  The paces for the 3k intervals should descend from marathon goal pace to start down to 10k pace for the last.  Run this workout about 5-6 weeks before the marathon when you are fit and hitting bigger mileage weeks.
4 x 800, 1600, 4 x 800 with 400 Recovery: This is my variant on the classic Yasso 800s workout.  It's the same amount of speed work, but I like how this version focuses on controlled effort (critical for pacing a marathon) rather than nailing goal pace predictors.  Warm up fully.  Change into flats.  Then run the first set of 800s at Yasso prediction + 5 seconds per 800 (so, for a 3:00 marathon, shoot for 3:05 per 800).  Run the 1600 at 10k pace.  Run the second set of 800s at Yasso prediction (3 minutes per 800 for a 3:00 marathon).  Just like marathon day, you need to wait until your almost done to start working hard.  Run this workout 4 weeks before race day as a final predictor of fitness on the track.
Time on Feet Long Run with 3 x 5k at Race Pace: Wait, not a track workout? Nope!  This is my favorite final "big" workout before a marathon.  It hits all the major factors: Endurance, pace control, mental toughness, nutrition, hydration, etc.  You'll need to do a little math before this one so you figure the miles right. Basically you want to "warm up" for a long while, then leave enough time to run 3 x 5k at marathon pace (with a 1-mile recovery between intervals), finishing the last interval at your goal time for the entire run.  So, if you want to run a 2:50, you want to finish you last 5k interval at 2:50-ish.  The miles before the intervals should be nice and easy.  Run this workout as your longest long run, 3 weeks before race day.
I'm not going to sugar coat this…these workouts are hard, but they produce results.  Here's hoping you can fit them into your next marathon cycle and throw it down on race day.